OUR SHOWROOM
COMFORTABLE, RELAXED, INSPIRING

When you visit Forest & Field, you'll feel like you've stepped into fresh air. Nestled in the beaucolic hills of Northeast Pennsylvania, we have what city showrooms can't offer: space. And lots of it. You won't feel corraled or pressured here, because building or renovating a home is stressful enough, so we've designed Forest & Field to ease you through the process. We want you to love your new project, from start to finish and for years to come.

In addition to a dreamscape of functional displays, we also have private conference rooms and a large materials library, all equipped with wi-fi and large-screen monitors for you to work efficiently, whether you bring your designer or use one of ours.

And refresh your creativity in our lounge area with a complimentary beverage while flipping through catalogs and design magazines for inspiration. This is the fun part — enjoy yourself!

Just off I-80 near Bloomsburg, we're an easy trip from further away than you might think. And we're open six days a week with extended hours on Wednesdays (until 8:00 pm) for your convenience. So take your time and make a day of it. We can't wait to meet you!
Our entryway portico was made by a local craftsman
---
Fully working demo kitchen, with Omega cabinets
---
Kohler sink and fixtures, with granite countertop
---
Large kitchen display
---
KraftMaid cabinets with Wolf rangetop and hood
---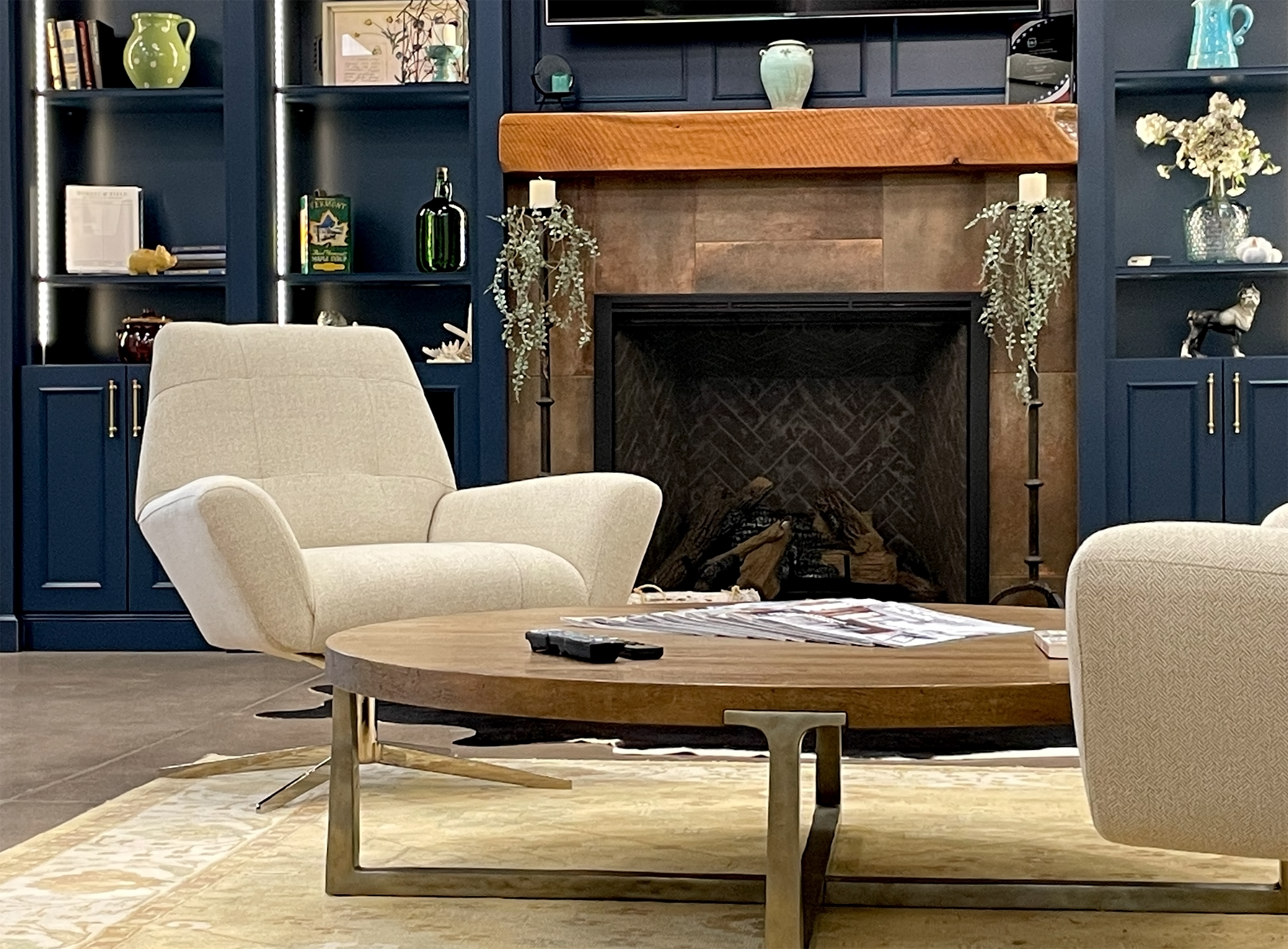 Lounge area featuring Wood-Mode Brookhaven II cabinets
---
Peeking in at the KraftMaid vanity module
---
KraftMaid vanity with Kohler sink and fixtures
---
Modern vanity module with "his and her" Kohler sinks
---
Detail of Kohler Sartorial Herringbone "his" sink
---
Pet Station with Omega cabinets
---
Mudroom display using KraftMaid Vantage cabinets
---
Numerous window, door, and siding modules
---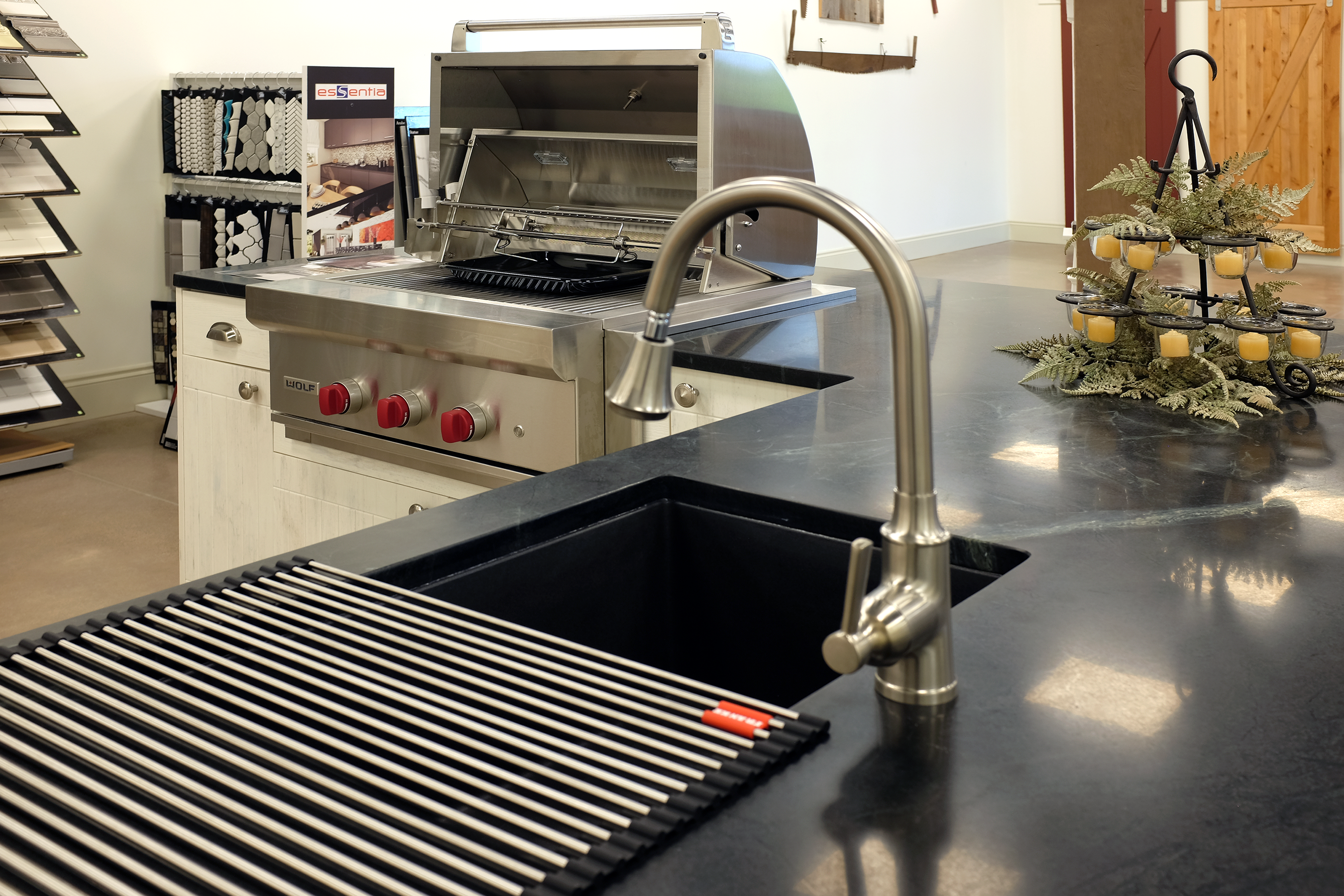 OpenAir outdoor cabinetry with Wolf grill
---
THE BRANDS WE CARRY
A CURATED SELECTION
We've selected the brands that consistently produce the best quality, newest innovations, and offer the most lasting value for your home.

When you visit our showroom, each display has a convenient information sheet detailing every element included in its design. We've also left space for you take notes as you browse around, leaf through our material libraries, and look at online catalogs.

Click on a logo below to explore each brand's own site.
DESIGN TEAM
PROFESSIONAL, EXPERIENCED PROBLEM SOLVERS
Nearly every build or renovation headache and cost-overrun comes down to the same thing: poor design. The consequences can be the most humbling moment of your life — handing over checks to demolish work just completed.

We strongly suggest you use a professional designer, and we feel we have some of the best. In this business, knowledge comes with experience, and our team has a combined sixty years of figuring out what works and what doesn't. You can see their work right here in our showroom, where every detail is given great consideration.

Our designers will walk you through each step of the process, at your own pace, mitigating the stress while getting your dream project done right. Schedule a free consultation to get started.
Kim Lupashunski

DESIGN DIRECTOR

With 25 years of experience in the Kitchen & Bath industry, Kim has seen it all. She loves working with clients to coordinate all aspects of their project, from initial customer contact to project completion. Kim helps customers identify budgets, tastes, and functional needs, finding the right combination of style and price that best expresses their unique design goals.

Email Kim
Call to schedule an appointment:
(570) 450-0681
Danae Orlando

KITCHEN & BATH DESIGNER

Danae has been designing since 2000, and it is her absolute passion. She loves helping clients organize their ideas, coordinate finishes, and ultimately transform an old, outdated room into a more functional and beautiful space that compliments their lifestyle.

Email Danae
Call to schedule a consult:
(570) 450-0681
Brandon Kreisher

DESIGNER & CONSULTANT

Brandon joined F&F in 2021 after spending more than a decade in the construction industry managing high-end residential projects in the D.C. area. He holds an AAS in Architecture and Interior Design and facilitates his designs with practical construction knowledge and a love of the outdoors.
Email Brandon
Call to schedule a consult:
(570) 450-0681
Lindsey Farrell

KITCHEN & BATH DESIGNER

Lindsey has been around construction all her life and has a passion for good design. As a local realtor in the area, Lindsey also has her thumb on current design trends and can guide her clients' dream home journey while keeping in mind functionality and budget.
Email Lindsey
Call to schedule a consult:
(570) 450-0681