OUR SHOWROOM
COMFORTABLE, RELAXED, INSPIRING

When you visit Forest & Field, you'll feel like you've stepped into fresh air. Nestled in the beaucolic hills of Northeast Pennsylvania, we have what city showrooms can't offer: space. And lots of it. You won't feel corraled or pressured here, because building or renovating a home is stressful enough, so we've designed Forest & Field to ease you through the process. We want you to love your new project, from start to finish and for years to come.

In addition to a dreamscape of functional displays, we also have private conference rooms and a large materials library, all equipped with wi-fi and large-screen monitors for you to work efficiently, whether you bring your designer or use one of ours.

And refresh your creativity in our lounge area with a complimentary beverage while flipping through catalogs and design magazines for inspiration. This is the fun part — enjoy yourself!

Just off I-80 near Bloomsburg, we're an easy trip from further away than you might think. And we're open six days a week with extended hours on Wednesdays (until 8:00 pm) for your convenience. So take your time and make a day of it. We can't wait to meet you!
Our entryway portico was made by a local craftsman
---
Fully working demo kitchen, with Omega cabinets
---
Kohler sink and fixtures, with granite countertop
---
Large kitchen display
---
KraftMaid cabinets with Wolf rangetop and hood
---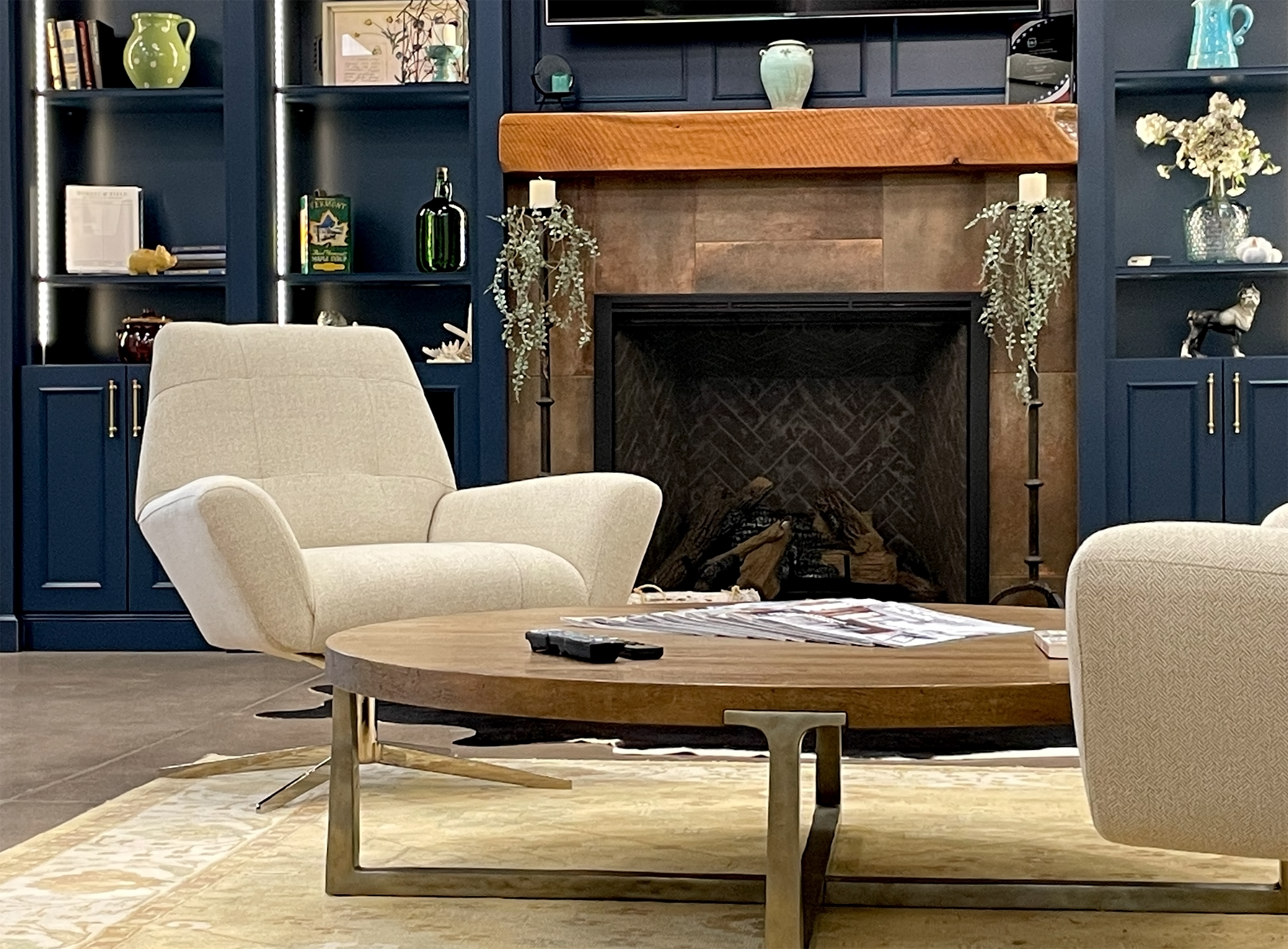 Lounge area featuring Wood-Mode Brookhaven II cabinets
---
Peeking in at the KraftMaid vanity module
---
KraftMaid vanity with Kohler sink and fixtures
---
Modern vanity module with "his and her" Kohler sinks
---
Detail of Kohler Sartorial Herringbone "his" sink
---
Pet Station with Omega cabinets
---
Mudroom display using KraftMaid Vantage cabinets
---
Numerous window, door, and siding modules
---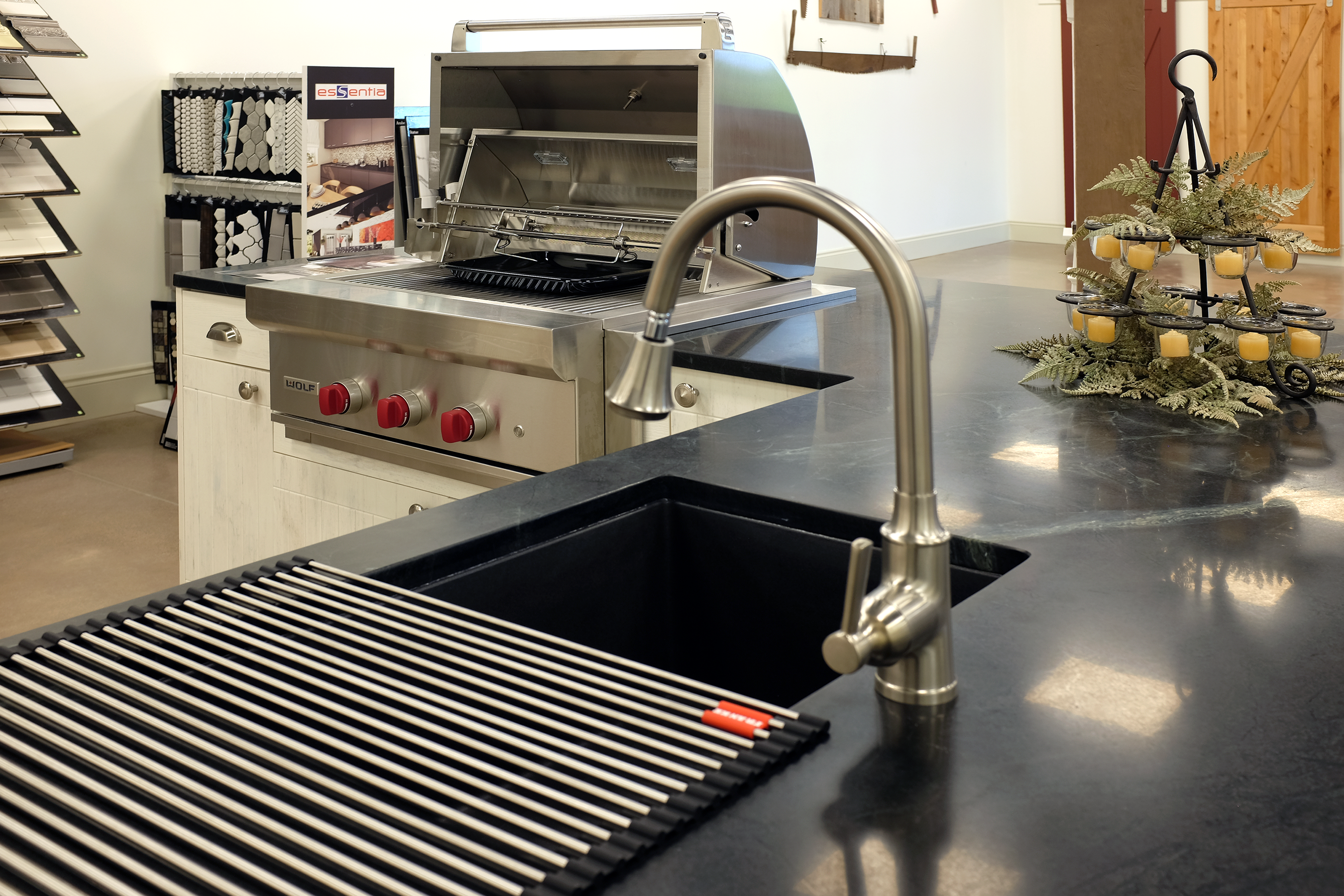 OpenAir outdoor cabinetry with Wolf grill
---
THE BRANDS WE CARRY
A CURATED SELECTION
We've selected the brands that consistently produce the best quality, newest innovations, and offer the most lasting value for your home.

When you visit our showroom, each display has a convenient information sheet detailing every element included in its design. We've also left space for you take notes as you browse around, leaf through our material libraries, and look at online catalogs.

Click on a logo below to explore each brand's own site.
DESIGN TEAM
PROFESSIONAL, EXPERIENCED PROBLEM SOLVERS
Nearly every build or renovation headache and cost-overrun comes down to the same thing: poor design. The consequences can be the most humbling moment of your life — handing over checks to demolish work just completed.

We strongly suggest you use a professional designer, and we feel we have some of the best. In this business, knowledge comes with experience, and our team has a combined sixty years of figuring out what works and what doesn't. You can see their work right here in our showroom, where every detail is given great consideration.

Our designers will walk you through each step of the process, at your own pace, mitigating the stress while getting your dream project done right. Schedule a free consultation to get started.
Kim Lupashunski

DESIGN DIRECTOR

With 25 years of experience in the Kitchen & Bath industry, Kim has seen it all. She loves working with clients to coordinate all aspects of their project, from initial customer contact to project completion. Kim helps customers identify budgets, tastes, and functional needs, finding the right combination of style and price that best expresses their unique design goals.

Email Kim
Call to schedule an appointment:
(570) 450-0681
THE DESIGN PROCESS
A STEP-BY-STEP GUIDE TO YOUR PROJECT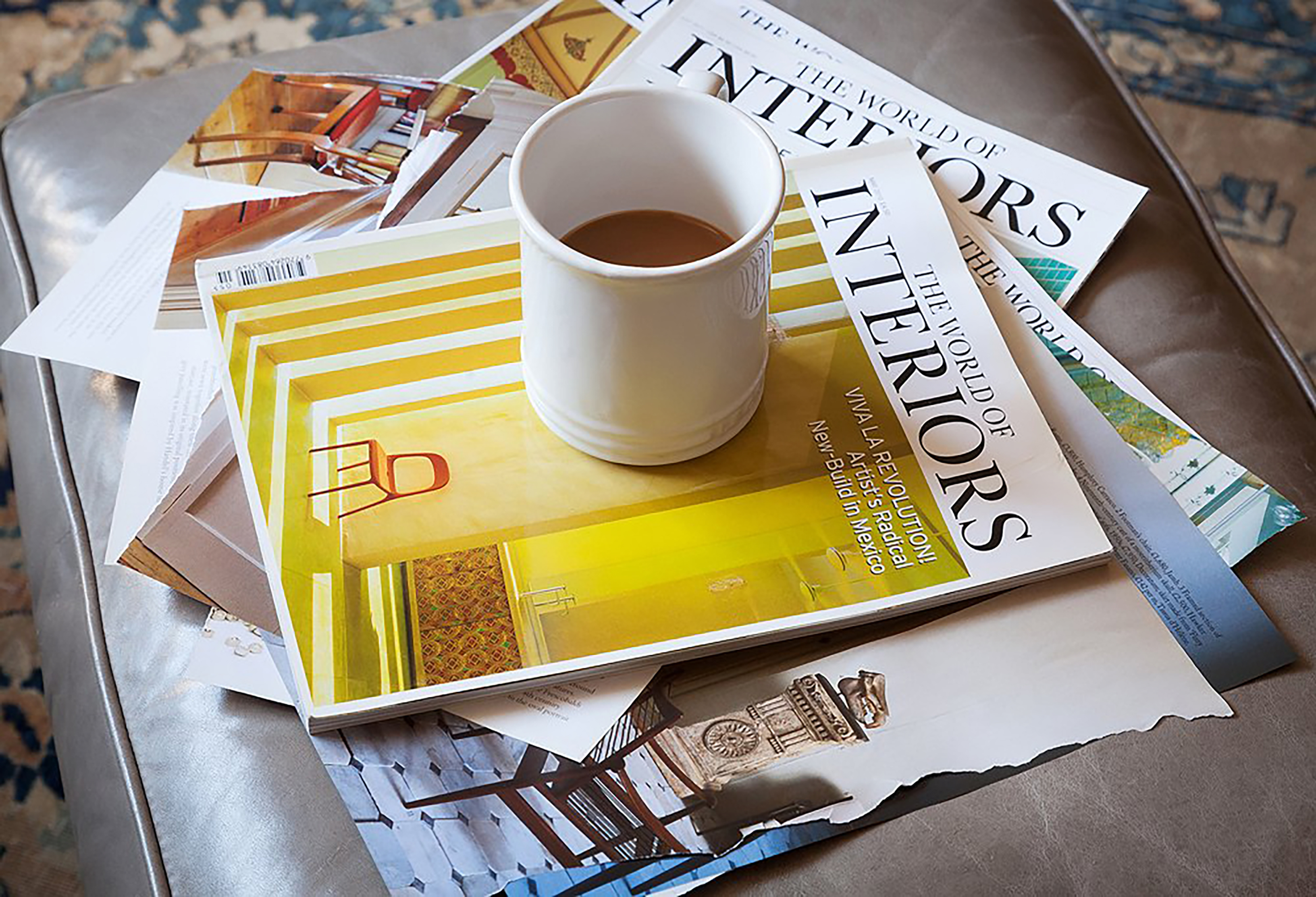 So you've decided you need a new kitchen, bath, closet, or outdoor-living space. Fantastic! This is the time to gather your inspiration by collecting magazine clippings and images of spaces, materials, and styles you like. A visit to our showroom will spark your imagination and get you familiar with our brands. While browsing, fill out an inquiry sheet, making notes of what you like along the way. A designer will then contact you to discuss your project and schedule an appointment
.
STEP 2
IN-HOME CONSULTATION
Now is the time to set up a consultation with one of our expert designers. (We charge a small fee that will be credited toward your project.) A designer will meet you at your house to see your space, take precise measurements and review your ideas. You'll get to know your designer — your partner throughout this exciting journey — and they'll get to know you.
Then, using the information gathered, and your input, we'll begin to transform design ideas into a buildable plan and a 3D digital rendering. Once the design is ready, you'll meet at our showroom and review the design, explore our extensive materials library, and begin discussing and selecting the materials for your space.

STEP 3
CHOOSING OPTIONS

We'll put together general design options that blend function, ergonomics, and aesthetics to fit the budget and scope of your project. Your designer will walk you through these options, make any necessary tweaks, and you'll decide on the best layout to pursue.
Then, together, we'll decide on the finishes and materials for cabinetry, countertops, appliances, backsplash, flooring, lighting, plumbing, and anything else applicable. We'll help you weigh the benefits and costs of each option and adjust elements to create the perfect design to fit your budget.
STEP 4
ORDER, SCHEDULE, INSTALL

At the end of the design process, we'll review the final proposed plans with you to make sure you are comfortable with all aspects of your project. You'll sign a contract to order your custom cabinetry and all the necessary materials. You will also be given a copy of your floorplan.
We can then either work with your existing contractor or we can refer one for you and they will work up a separate labor price. Upon ordering, we ask for a 50% deposit. We'll get everything scheduled, delivered, and continue making job site visits to ensure your project is completed successfully.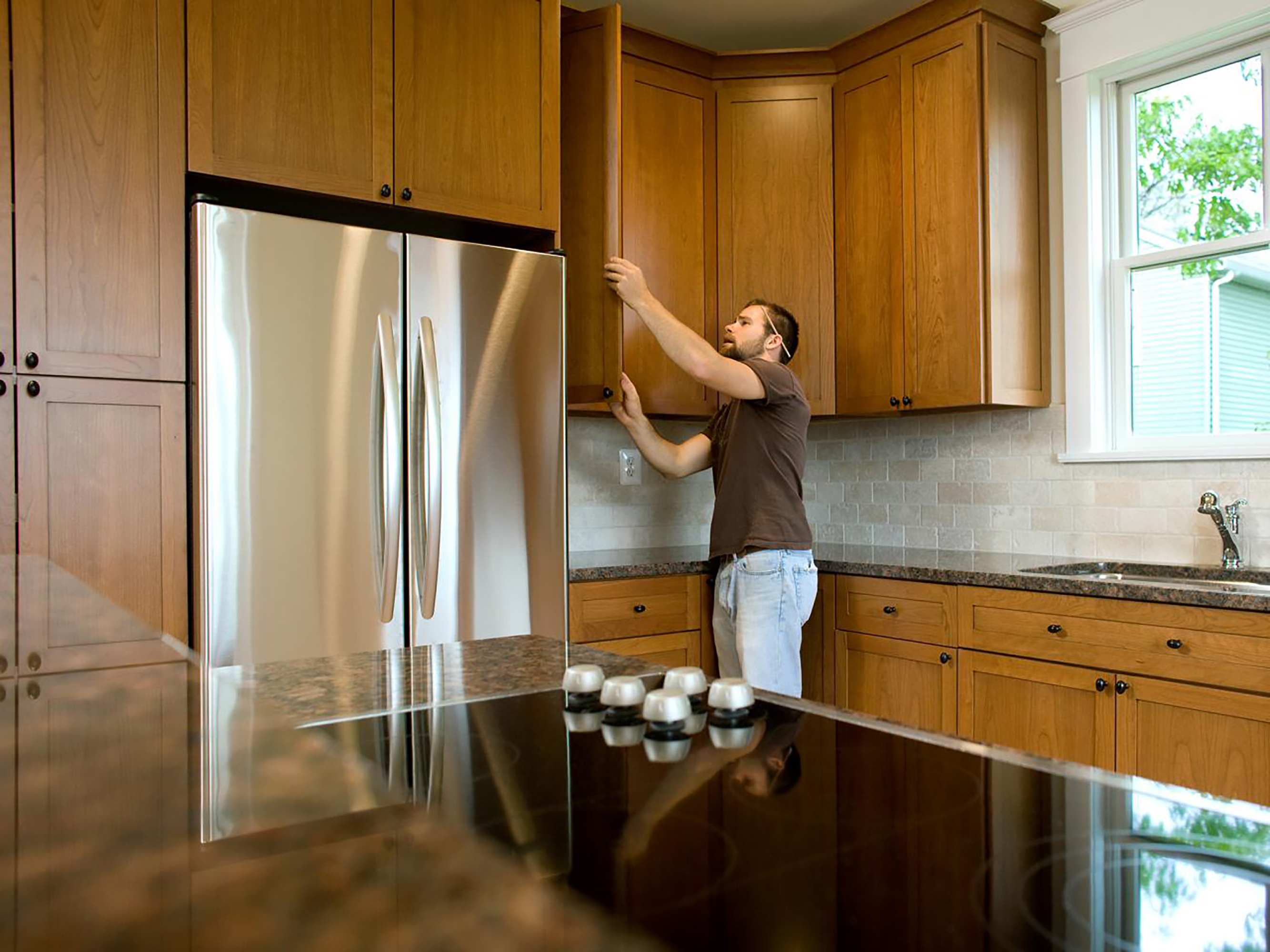 STEP 5
FINISHING TOUCHES

We work closely with the installer to place the finishing touches on your brand new space. We'll then thoroughly review everything and ensure that you are completely satisfied with your new dream space. In fact, with your approval, we'd also like to photograph it for our portfolio.
STEP 6
ENJOY!

Congratulations, your design journey is complete and your space is ready to enjoy for many years to come!